Following its initial reveal on April 1st this year, Asus is finally ready to shed more light on its ROG Companion handheld gaming PC, which will launch on May 11th and be sold by Currys in the UK. The Steam Deck appears to be a more premium device than competitor Valve's offering, with a faster AMD Ryzen Z1 series processor, seven-inch 1080p 120Hz touch screen and Windows 11 – but no pricing has been announced yet.
The hardware side of the equation is probably the most fascinating, so let's start there. The Ally is powered by a 'custom' Ryzen Z1 chipset that includes Zen 4 CPU cores and RDNA 3 graphics produced on a 4nm node. (By comparison, current Ryzen 7000 desktop designs use a mix of 5 nm and 6 nm processes, which should give Allie's APU an advantage in terms of performance per watt.) We're looking at the Z1 (6C/12T, 22MB cache, 2.8TF 4CU GPU) and Z1 Extreme (8C/16T, 24MB Cache, 8.6TF 12CU GPU) processors announced by AMD earlier today offer increasing levels of horsepower for a high demanding price.
Speaking of which, the impressive-looking APU is backed up with up to 16GB of LPDDR5 RAM in dual-channel mode, while storage is up to a 512GB PCIe 4.0 SSD and UHS-2 microSD card expansion – faster than what's available on the deck, which is PCIe 3.0. Storage is limited to microSD and UHS-1 microSD cards. Also included is Wi-Fi 6e, compared to the Wi-Fi 5 on the Steam deck. It will be interesting to see whether all SKUs of the Ally come with a full complement of RAM and storage or whether it will be pared back to cheaper options.
In terms of design, Asus says the Ally has taken shape over five years of iterations, eventually weighing in at 608g (versus the Steam Deck's) with aluminum internals, twin fans, 'anti-gravity heat pipes', and tons of custom 669g) has been reached. components to ensure a good balance of performance and portability. The Xbox-style button layout is reinforced by additional paddles on the back of the device, so Asus is taking a similar approach to Valve here – albeit no trackpad. Like its ROG Phone models, accessories are also a focus, with Asus showing off its ROG XG Mobile external GPU — plus case, controller, charger, and low-latency wireless in-ear headphones. Possibly an attachable cooler is also in the offing!
I dig what Asus has done here with the design, with a device that fits the brand's sci-fi aesthetic with angular lines and lots of RGB – but perhaps a plain black version would be better for those Those who want to fly under the radar for a bit in public settings.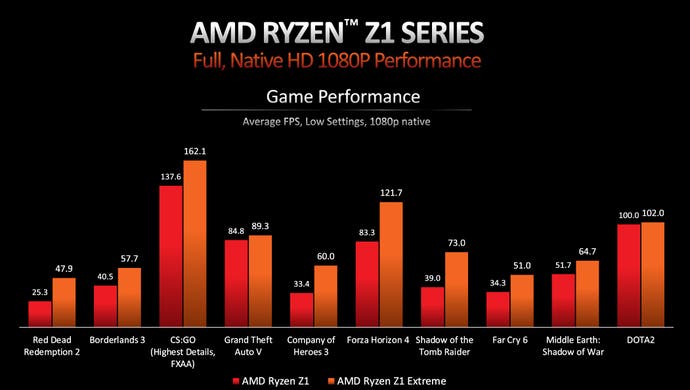 The IPS screen looks like a major differentiating factor compared to the Steam Deck, with a higher-end 1080p resolution, 120Hz refresh rate, and an impressive 500 nits peak brightness. The display is rated for a good but decent 7ms pixel response time, 1000:1 contrast ratio, and full coverage of the sRGB color space. It's not OLED though, which is a bit of a disappointment on a premium device.
Even with a more powerful CPU, maxing out both resolution and refresh rate seems unlikely, especially when battery life is a concern, but you're unlikely to be limited by the display at least. Adaptive sync is also supported, which is particularly helpful on mobile APUs that are probably more likely to deliver performance below 60fps in graphically demanding titles – the ability to smooth out uneven frame-rates certainly is Is it good.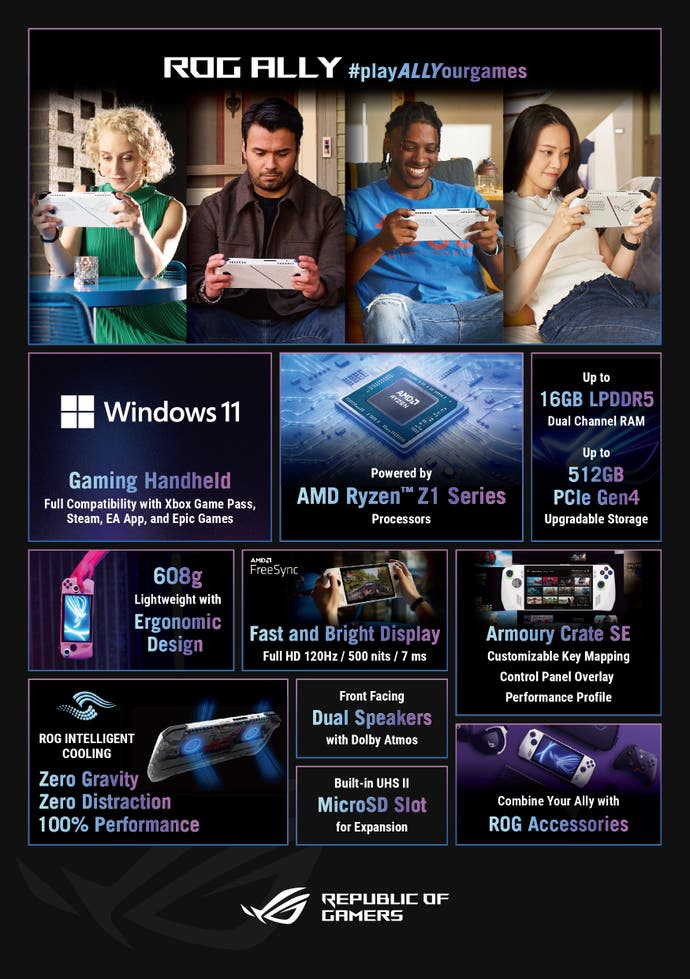 While the Steam Deck is geared toward the Steam Marketplace, it's possible to easily add other launchers by diving into the device's Linux-based SteamOS desktop mode, for obvious reasons. With its ROG Armory Crate meta-launcher built on a Windows 11 base, Ally aims to make it easier to run the widest range of stores, with compatibility with Steam, Epic Games, Xbox Game Pass, EA Play, Ubisoft Connect, and Battlegrounds. The Taiwanese firm's marketing materials all refer to .net. The app also includes a gamepad, keyboard/mouse mapping and desktop mode, RGB controls, and a deck-style on-screen display that looks a bit more advanced than the Aya Neo device.
The ROG Companion also comes with a three-month Xbox Game Pass Ultimate subscription, which is a sensible way to make the most of the Windows backend and provide direct access to lots of excellent games – although the Microsoft Store doesn't offer the handheld-friendly anywhere near curation (or even stability) provided by Steam. There are signs that Microsoft is taking handhelds seriously like the Steam Deck and Aya Neo, an internal hackathon demonstrating a handheld-centric UI among other changes, so I hope this helps find handheld-suitable titles on Xbox. Expands towards making easier and future Windows Store apps.
Overall, the ROG Companion is shaping up to be an exciting release and we're looking forward to getting our hands on it to test its performance – as well as to find out what it'll cost when it launches on May 11. How much will it be If Asus is able to deliver the device at a similar price to the Steam Deck, or offer a premium model that's significantly better, it could have a winner on its hands.

Please enable targeting cookies to view this content.

Manage cookie settings