EA has started releasing the first of its many promised post-launch patches for Star Wars Jedi: Survivor.
After a fairly messed up release – especially on PC – and one update on opening day, EA is now in the process of fixing its games. (Digital Foundry called Star Wars Jedi: Survivor "the worst triple-A PC port of 2023 ever.") PC players may have already seen a new patch, while on consoles they can expect to see this wave. can do. The fixes are going live sometime today (May 2).
EA says that this particular patch will fix several crashes, including those involving skipping cinematics. It will also address various collision issues within the game, and enemy AI should no longer T-pose when players take a spin with Jedi: Survivor's photo mode.
You can read the most recent patch notes for Star Wars Jedi: Survivor below:
PC patch (already live)
Performance improvements for non-ray traced rendering.
PlayStation 5 and Xbox Series X/S (coming May 2, already on PC)
Fixed multiple crashes on PlayStation and Xbox Series X/S and in various areas of the game.
Fixed crashes that were associated with skipping cinematics.
Performance improvements on PlayStation 5 and Xbox Series XIS.
Fixed a dynamic cloth issue inside Mantis.
Fixed various rendering issues.
Fixed an issue where registered Necco colors were not being saved.
Fixed an issue with registered Neccos disappearing from the stable.
Fixed issues with overlapping cinematic dialogue.
Fixed various collision issues.
Fixed an issue with enemy Al's staying in T pose during photo mode.
Fixed an occasional stutter when talking to Doma.
Fixed a bug where BD-Oil VFX was not rendering properly.
Fixed an issue where players were becoming trapped inside the Chamber of Duality if you did not save and died after leaving the chamber.
Looking ahead, the Star Wars Jedi: Survivor team has promised that it is working on even more patches, stating these future updates will "further improve performance and fix bugs across all platforms". It made a similar commitment last week, when the developer said it was "conscious Star Wars Jedi: Survivor is not performing [its] Standard" on PC.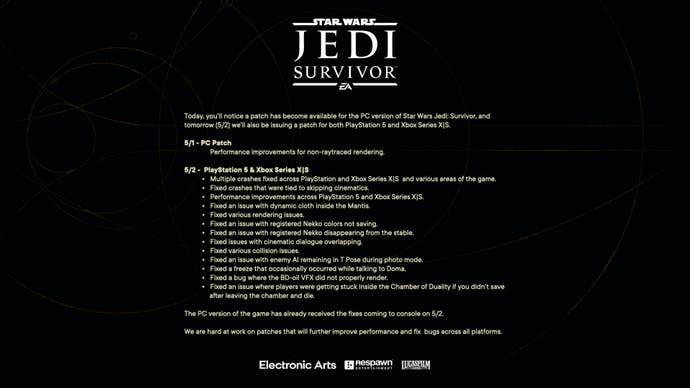 In our own Star Wars Jedi: Survivor review, Chris Tapsell noted that the game's technical issues were "less devastating" than those of its predecessor (Star Wars Jedi: Fallen Order). However, he also said "things could still be pretty tough at the seams".
During his review, he experienced objects, including but not limited to hands and hair, slicing through surfaces. He noted "some frantic pop-ins and cloak flapping when coming in and out of cutscenes", and suffered a particularly "tough" crash during his playthrough (which was on PlayStation 5).
All this being said, he found Jedi: Survivor to be "really fun at the core", and commended its "lovely interpretation".