In its ongoing bid to acquire Activision Blizzard – something that suffered a major setback earlier this week after UK regulators dramatically blocked the deal – Microsoft has yet to announce a 10-year commitment. .
The latest deal is with cloud gaming platform Nware. Sharing the news on Twitter, the vice president and president of Microsoft brad smith wrote: "Microsoft and European cloud gaming platform Nware have signed a 10-year deal to stream PC games made by Xbox on their platforms, as well as Activision Blizzard titles after the acquisition closes.
"While it is still early for the emerging cloud segment in gaming, this new partnership combined with our other recent commitments will make more popular games available on more cloud game streaming services than we can today."
This partnership with Nware is the latest agreement Microsoft has signed to bring Call of Duty and other Activision Blizzard games to more people. In recent months it has made similar agreements with Nintendo, SteamNvidia, Boostroid, Ubitus and EE.
Microsoft is still confident (at least, outwardly) that Activision will go through with its bid to buy Blizzard.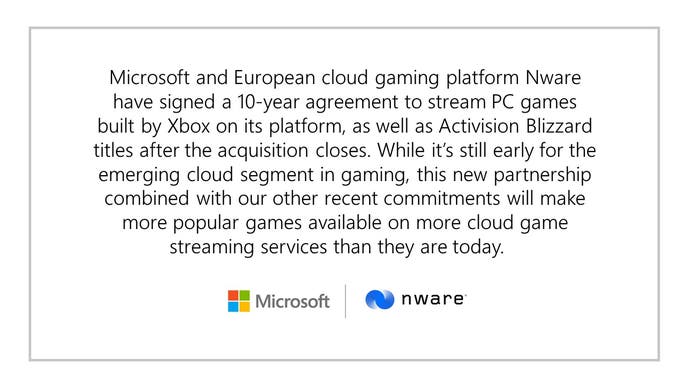 As already mentioned, earlier this week the CMA decided to block Microsoft's deal, with its decision stemming from concerns over the deal's proposed impact on the cloud gaming sector. Microsoft is now appealing against this decision.
"The CMA's decision rejects practical avenues to address competition concerns and discourages technology innovation and investment in the United Kingdom," Smith said on Wednesday.
"We have already signed contracts to make Activision Blizzard's popular games available on 150m more devices, and we are committed to strengthening these agreements through regulatory measures. We are particularly disappointed that After long deliberation, this decision reflects a flawed understanding of the market and the way the relevant cloud technology actually works."