Monster Hunter Now is the next project from Pokémon Go developer Niantic, created in collaboration with Capcom, and you'll be able to try it out next week.
Niantic describes it as a hunting action role-playing game that blends Capcom's creatures with the Pokémon Go maker's trademark brand of smartphone-based real-world gameplay.
Monster Hunter Now is set to fully launch in September 2023, but will begin in closed beta form on April 25th – which you can sign up for at monsterhunternow.com.
In a briefing Eurogamer attended by Niantic and Capcom, the developers said the game had been in the works for four years, with Niantic first visiting Capcom to discuss the project in 2019.
Monster Hunter series producer Ryozo Tsujimoto said he was immediately attracted to the idea, and responded "Let's do it, without giving it a second thought" to the initial pitch.
The project is produced by Niantic's Tokyo-based team, which also previously worked on Nintendo collaboration Pikmin Bloom.
As you'd expect, you'll encounter Monster Hunter creatures in your local neighborhood, fight them using a variety of weapons, and then use their resources to upgrade your gear.
You'll have your very own Palico as your companion as you explore. You'll also be able to hunt together with others: up to four friends and others in your local area.
If you've played Pokémon Go, the concepts here will be familiar: Here the equivalent of Pokestops will provide resources, while the monsters themselves vary through local biomes.
Battles against monsters will be relatively straightforward, and will be limited to a maximum friendly duration of 75 seconds. However, the visuals here are definitely a step up from Pokémon Go.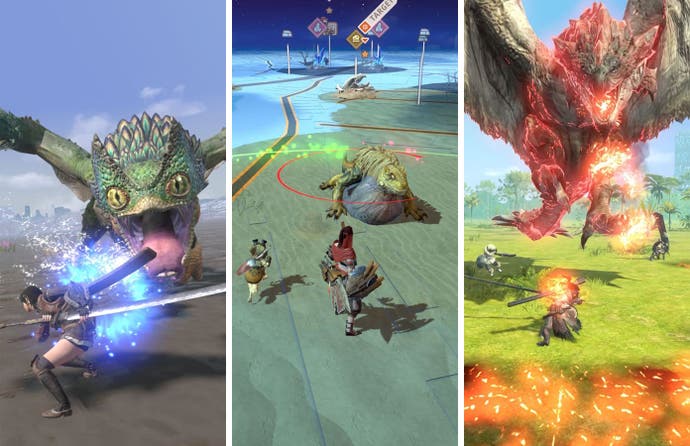 Now is not the time to hunt monsters? You can use a paintball item to mark them for later hunting when you're at home, which Niantic says will allow you to choose when and where you want to play.
No word yet on whether or not Monster Hunter Now will tie into any other Monster Hunter games.
Pokémon Go remains hugely popular today, though Niantic has struggled trying to recapture its success with a string of other projects with similar gameplay based around other video game and pop culture franchises.
When asked about expectations for the game during a roundtable Q&A, Niantic Tokyo spokesperson Kei Kawai said: "[Gaming] is a hit-driven business. You never know and I don't want to guess how big it will be. What we can focus on and control is making this a fun game to play with the great talent and hitmakers at Capcom. I have a firm belief that we have a hit on our hands and a firm belief that the world will love it and have fun out there. And we want this game to last for a very long time."
Along with existing games Pokémon Go, Pikmin Bloom, NBA All-Stars and Ingress, Niantic is set to launch a Marvel game later this year and its virtual pet title Peridot worldwide in May after an extended testing period. Ready to roll out.

Please enable targeting cookies to view this content.

Manage cookie settings