Valve has released a new update for its Steam client beta.
This update adds a swathe of pretty nifty features and improvements, including the ability to pin windows from the overlay so they appear on top of the game during play. This means that, in Valve's words, "yes, you can watch movies while you play the game if you really want to" (although, I think it really meant that for things like guides and notes. This feature was more).
For those notes, this update adds a Notes app. The app does almost everything you'd expect. It lets you take notes about your games, and comes with "rich text formatting, the ability to keep multiple notes per game, and can be used in offline mode as well". Your notes will be saved per game, and then synced with other PCs you're logged into.
Apart from these features, there is also a new toolbar which you can use to open different apps while gaming. This means you can chat with friends, view achievements or guides, and so on.
There's also a game overview section, which Valve calls a "one-stop shop" for seeing what's trending in any given game. "For example, it shows what achievements you have, which friends are playing the same game, top guides, news and much more," explains Valve.
Valve has made its Steam client notifications "richer and more useful" with this update. Now, the green button will only light up when you have "something really new" to watch. Meanwhile, the tray view is now limited to new notifications only.
Last but not least of these big changes (Valve is also tinkering with other bits and pieces, like visual and usability improvements to Steam) is the screenshot manager. It's been completely refreshed with the update and you can now choose between large or small thumbnails, see recent screenshots instead of games, and you can manage online screenshots as well as local screenshots. ". Handy.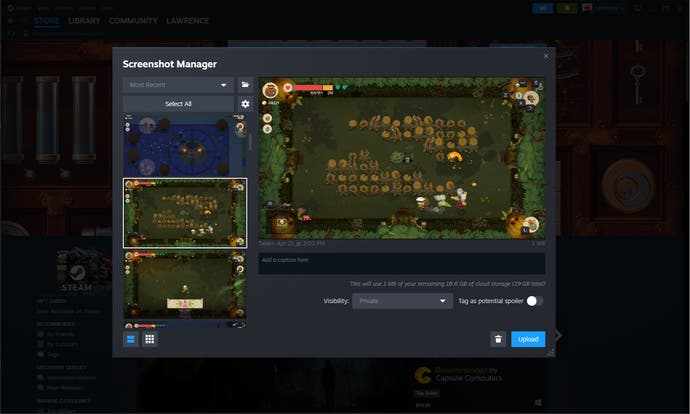 You can read more, and opt-in to the Steam client beta, by following this link.