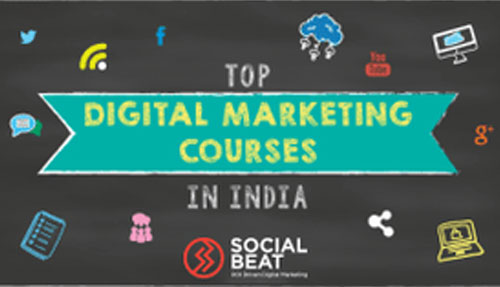 With the Indian internet population at over 550 million users (as of Jun 2020), the digital marketing industry is growing. With the industry showing an enormous projected growth potential and an expected paucity of trained professionals, many students, graduates and young professionals are looking to get on the digital marketing bandwagon. Owing to Covid 19 there are even more Indians spending time online. This has led to rise in digital marketing jobs and also choice in terms of digital marketing courses and training institutes in India.
To cater to the growing need for these courses, a number of training companies, institutes and universities have started various Digital marketing courses and social media marketing courses. There are tons of books written on Digital Marketing and YouTube Channels covering digital marketing. Based on our experience in digital over the last decade, here is a guide on some of the best institutes that you could choose from. Since this is an extensive article we've split it into sections to make it easier for you to navigate and read through. There are also many free digital marketing courses, to get started with.
Our top three picks would be DigiGrad, UpGrad (on the executive side) and Udemy (for an affordable option):
Short Video Guide on how to select the right digital marketing course in India:
Criteria you should use for evaluating digital marketing courses and institutes
Before opting for a digital marketing course online or offline, here are some pointers to evaluate the desired institute or course structure.
Certification: Certification is no substitute for skills learned and hands-on industry experience but, nevertheless, can add to the CV of a fresher making an entry into the field or for a professional looking to make a career switch. Opt for certification courses recognized by various educational bodies and corporates.
Course Curriculum & Faculty Expertise: Gauge the Institute or the course offered based on the curriculum, faculty expertise, training modules and relevance to the current industry trends & practices. A program being run by a digital marketing agency themselves is very impactful.
Reviews and recommendations: Check for reviews and recommendations from industry experts & former students through Google, online education portals or discussion forums. Reach out to alumni on LinkedIn for their direct feedback, where feasible.
Placements: Explore the institute's placement opportunities or institutional tie-ups for live projects & hands-on experience on acquired digital marketing skills.
Here are some of the popular websites/companies/institutes offering Digital Marketing courses which will save you a considerable amount of time in research if you're looking for one for yourself. If you are looking for social media marketing courses in India, please visit this link.
Online Digital Marketing Courses in India from Institutes
DigiGrad is an initiative of Social Beat (a Google Premier Partner and a Recommended Facebook Agency) to impart quality digital training in an online and classroom setting. Priced at INR 30,000 DigiGrad offers the Certificate Program in Digital Marketing that is tailor-made for marketers, entrepreneurs and freshers alike. It is an IIM alumni initiative with Harvard-style Case Study based Learning Methodology and live classes with a small batch size of less than 50 students per batch. Their integrated 12 weeks rigorous learning program has 7 advanced training modules and includes practical application-oriented modules. It also offers specific programs relating to Digital Adverting, Social Media, SEO and other digital marketing streams. As its an initiative by a digital agency, they guarantee a live project and offer internships and projects at Social Beat and with India's top brands.

Manipal Global Education Services is from the parent company of Manipal University, that offers online and classroom-based courses on digital marketing. Their online certification program spanning 100 hours of learning covers various aspects of digital marketing such as SEO, SEM, ORM and Analytics. Their PG Certificate in partnership with Manipal Academy starts at INR 95,000 – though its a long program (200 days) whereas the Certificate program starts at INR 55,000.
Digital Vidya is a leading Digital Marketing training company and one of the first to launch Social Media Marketing course series in India. Since 2009, they claim to have had participation from over 20,000 professionals and students, from over 10,000 organizations and institutions. Digital Vidya also offers Digital Marketing (CDMM), Mobile Marketing (CMMM) and Social Media Certification programs (CSMMP) in association with V-Skills, a Govt. of India initiative. Their programs are priced at INR 50,000.
Simplilearn is one of the leading platforms for online training and professional certification programs. They have around 30 courses in digital marketing that provide hands-on experience in various Digital marketing domains. Priced at INR 60,000 they are accredited by OMCP, these courses are aimed at helping working professionals & aspirants stay ahead of the digital curve with relevant skills.
NIIT offers a post graduate degree in digital marketing and branding, seems to be designed for freshers. It guarantees 3 interviews and is priced at INR 70,000. The duration of these courses is 6 months. They used to offer this program offline but now moved it to digital – possibly owing to Covid 19.
Internet & Mobile Research Institute, headquartered in Bangalore is a full-service international digital media training centre. IMRI conducts a one-month Executive Programme course in SEO, PPC advertising, SMM & Web Analytics, a six-month Professional Program In Digital Marketing (EPDM) and a one-year Graduate Program for aspirants to jumpstart their digital marketing career and it aims to be more experiential than classroom training.
The All India Management Association (AIMA) has an AICTE approved 1 year program. The pricing is INR 31,000 per semester and for the full program it is probably INR 93,000. The major digital marketing tools covered in this course are email marketing, SEO/SEM, pay per click, affiliate marketing, digital display, mobile marketing, online video and social media analytics. Spread over a period of three months, this online course is divided into 6 modules.
Affordable Courses
There are many free digital marketing courses and affordable recorded courses from platforms like Udemy, which covers the basics of digital marketing. Even Coursera has some excellent programs. If you are a student then MyCaptain has some useful programs starting at INR 2,800.
How to choose between Online and Classroom courses for digital marketing
Online Courses are generally more convenient for most people, especially working professionals as they can be attended from the comfort of one's home/office Also, with technology having improved, online instructor-led virtual classrooms are as good as actual classrooms, with webinar software allowing for both peers to peer interaction as well as student-teacher interaction. Webinar recordings are also available for those who miss out on sessions. Classroom programs would only work best for you if you are the personality type that prefers learning in a classroom environment or if you're not too comfortable with learning in a live webinar format.
Classroom & Offline Courses for digital marketing
Here is a list of institutes which conduct classroom courses but owing to Covid 19, many of them may not be fully operational yet.
Digital Marketing Training Institute conducts a Post Graduate Program in Digital Media Marketing in Mumbai. The course is a one-year, full-time program that focuses on the strategic and practical aspects of Digital Marketing. They have an active placements cell as well which helps course participants get jobs in the digital marketing space.
EduPristine is one of India's leading training providers for international certifications in Finance, Accounting and Analytics. They also conduct digital marketing classroom courses in 11 Indian cities. The course covers 60 hours of digital marketing classroom training over 12 Sundays. They also have a 48-hour online course spread over 6 weekends. On completion of the course, the participants are awarded a Certificate of Excellence in collaboration with the "Microsoft IT Academy Program".
The Delhi School of Internet Marketing (now acquired by DigitalVidya) conducts an all in one advanced digital marketing live classroom course for working professionals, business owners and job-seekers, at their training centres in Delhi and Bangalore. They conduct an online instructor-led course as well on weekends. However, they do not seem to offer any digital marketing certification for participants who complete the course.
Digital Nest conducts an Advanced Digital Marketing Training Course in Hyderabad. The course includes 48 hours of classroom training with weekday/weekend classes. They also conduct workshops/seminars and webinars for corporate bodies and educational institutions.
Social Samosa, one of the most popular social media news and information portals in India, conducts workshops and seminars on the basics of Social Media, Facebook and Twitter marketing in Mumbai. These one-day sessions can serve as a primer for those who want to gain a basic knowledge of the space.
IIDE
Located in Mumbai, the Indian Institute of Digital Education offers two courses on digital marketing and full stack programming. The digital marketing programme is designed to give freshers a robust introduction to the world of digital marketing and help professionals intensify their existing knowledge of all things digital. The programme is divided into a 6-month with classes conducted thrice a week, and independent certification courses conducted for three hours over one week.
The full stack programming course is an exhaustive 6-month program that gives students a profound understanding of the technical and practical aspects of web development and coding.
Executive Programs & Management Development Programmes on Digital Marketing in India
Most of the courses listed above are best suited for students and working professionals. If you are someone in a fairly senior role who has more than 5 to 10 years of work experience under his/her belt, then it might be worthwhile considering doing an executive digital marketing course.
It's surprising to see that not many business schools in India are offering executive or management development programs around digital marketing. The few that do exist have been showcased below and we have tried to find a mix of programs that focus on digital marketing, e-commerce and analytics. If you have attended any of these programs please do leave your feedback in the comments below.
Upgrad offers course across many streams. One of the streams is marketing where MICA has partnered with Upgrad for the PG certification in Digital Marketing and Communication and covers social media marketing, content marketing, branding and marketing analytics. Its a pretty long program at 6.5 months. Starting from INR 87,750 and going up to 1.25 lakhs it is one of the most expensive online course available. Some of the interesting aspects of this course are certifications from MICA case studies, projects and one on one mentoring with industry experts.
TalentEdge provides a Specialised Executive Programme in Digital Marketing from MICA, Ahmedabad, ideal for early beginners and working professionals. Priced at INR 70,000 for a 4.5 month program, they claim to have reached over 8,00,000 registered learners who have benefitted from the live lectures, case studies and content structure designed by MICA faculty & industry experts. Apart from this, TalentEdge also offers an Executive Development Program in digital marketing from XLRI at INR 80,000 for a 6 month program. The executive development program is a course for marketing managers who wish to understand the nuances of digital marketing techniques and tools to execute a campaign. Talentedge offers over 250 courses across different areas and while they dont specialize only in marketing programs, they do have good university tie ups.
Amity University started its online avatar called Amity Future Academy and launched the Post Graduate Diploma in Digital Marketing Strategies in collaboration with Wharton University. Priced at INR 1,55,000 it is a pretty steep price point, especially considering the faculty is not from Wharton. It is a 12 month program with 13 modules including brand strategy.
IIM Bangalore has a programme called "Digital Marketing for Business Growth" which they conduct mutiple times in their academic year. The programme aims to give an overview of digital marketing with a focus on the different social media marketing channels, search engine marketing (both search advertising & search engine optimization) and digital analytics. So it aims to give an overview of each of the key elements that can enable brands to get better engagement, leads and conversions. It also touches upon analytics and what metrics can be used to measure the performance of the digital campaigns.
IIM Lucknow does seem to have a programme on Digital Marketing by renowned Professor Moutusy Maity. She has done extensive research in e-commerce, m-commerce and CRM so the quality of the programme is likely to be very high. She has worked in the Industry (at Nielsen) and handled clients like PepsiCo and Eveready Batteries so she would definitely bring a practical experience to the table. We are yet to receive more details on the programme from them so we shall update it here shortly.
Great Learning, from the house of Great Lakes Institute of Management has a PG Program in Strategic Digital Marketing. It is a 6 month module with a 4 week capstone project, with mentoring from faculty of Great Lakes. The course is a blended model with recorded content as well as live mentoring. The pricing is only on request.
ISB Hyderabad has a 3-day executive program titled "Digital & Social Media Marketing Strategies" priced at Rs.1,50,000 + GST. It is specifically targeted for professionals and leaders in the marketing and strategy domain. The program aims to give an overview of digital and social media marketing and how to get ROI from the medium.
Global Online Digital Marketing Courses
Jellyfish is a global leader in training around programmatic advertising platform – Google Marketing Platform (GMP) and its components, Campaign Manager, Display and Video 360 (DV360), Search Ads 360, Google Analytics 360 and Optimize 360. Its a pretty advanced program and the subscription is INR 42,000 per month and its meant for users who already have access to the GMP platform. Here is an article on the basics of programmatic advertising and DV360 case studies to help you get started.
Hootsuite, one of the most popular tools for social media scheduling and monitoring has Hootsuite Academy, which offers a social media program at USD 199, which is worth exploring.
Hubspot Academy offers a free Inbound Marketing Course & Certification marketers, entrepreneurs and students. They also conduct classroom training but only in the United States.
Conclusion
If you are a self-learner keen on understanding the digital marketing space, there are various youtube channels, digital marketing blogs, articles, books and real-time case studies available online. You can also join relevant LinkedIn groups to participate in discussions & connect with industry experts.
All said Digital marketing is a field where just taking courses or following the industry trends alone will not make one an expert. Maximum learning can only be gleaned from actual hands-on, on-the-job experience. Hence, the success of these courses will eventually depend on the quality of digital professionals they send into the industry and how well they execute the acquired knowledge & digital skill sets. If you are looking out for digital marketing careers in India, check Social Beat out.
Have you taken up any of these courses? Please share your experiences with us in the comments!