The follow-up to 1966's Mothman is another charming, spooky treat.
There's a moment in Varney Lake where you meet the vampire. It is the early summer of 1954, and some friends are working out what to do with the lazy days that lie ahead. They come to a hut and turn around. And there they meet vampires.
It's a fascinating moment, and I shouldn't spoil it. What I will say, though, is that I've played this moment over and over and I'm fascinated by how it's handled. I am mesmerized by all the amazing, delicate choices made in the staging. The vampire is frightening, but the scene isn't purely frightening. It's full of charm and care, with memories the characters have grown up in their lives and how they react to things. And it's a wonderful duet, the darkness of the hut, the hot summer sun outside. And this comparison is enhanced by the fact that this scene, this present, is also part of the past. It is illuminated by the bright, sometimes blinding sun of memory.
Varney Lake is the follow-up to 1966's Mothman, which means it's a pixel pulp made by an Argentinian micro-studio that loves creepy things, cryptids, horror and pulp as a sensibility, making art quickly and with as well as the process of making the pulpit as a genre or rogues gallery of subjects. Like Mothman 1966, Varney Lake hails from the early 1990s PC gaming scene as a haunted CGA game. It is a visual novel, with decisions that take effect when made through a text selection interface. The visuals are an absolute object of majesty: lurid, playful, sometimes acutely realistic, all delivered in a handful of carefully selected and paired colors and the graphical noise, pixel cross-hatching, cheap old Mad Magazine vibe of The mimeo is filled with thick lines. printing.
That color! Varney Lake is the story of summer in the 1950s and how it affects the lives of three friends. So it was in 1954 and even a few decades later – in the early eighties – as some of the characters were drawn back together that happened. All eighties segments are urban drizzle, and the colors chosen are mainly dark blue and a sort of toxic green. Everything feels claustrophobic and slick with the rain. These two colors working together make the present feel sad, as frustrated men and women try to figure out what went wrong and if it's too late.
But 1954 is largely blinding yellow and white and blue: a landscape of endless summer holidays where even the nights are full of bright dots. And while the 1980s scenes sometimes felt close enough to the 1966 Mothman — there's a shared character, and a shared focus on understanding what happened — the 1954 segment is, well, I still take it. I have been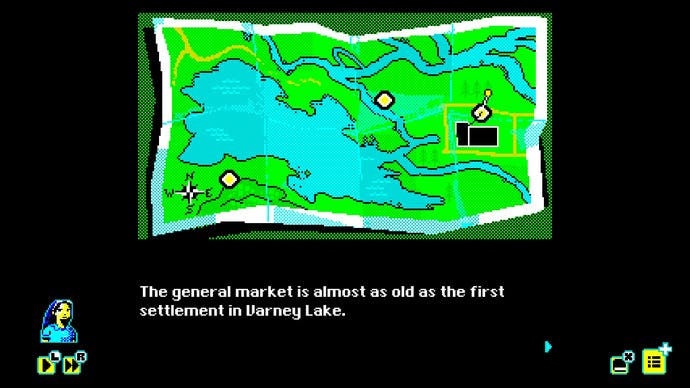 I'm not a big game player in general, but I have read again Varney Lake at least three times by this point. Partly I'm trying to see different results and unlock different hidden scenes. Partly I'm trying to understand the real backbone of the narrative that runs through the game. But in fact I go back to trace the boundaries of the segments of 1954, where there is a story of three friends who meet a vampire, sure, but much more. There is a sense of peanut to the proceedings, oddly enough. You can also choose to lie on your back on the grass and watch the figures in the clouds — a classic Peanuts riff, and a classic moment of despair for Charlie Brown, who sees a ducky and a horse while Linus Pilgrim takes off to the New World. I see him coming. or something like that.
You can choose that. Or you can choose to go fishing. You can try to earn money. Pick something to do every day. And only then, when night comes, will you return to the vampire.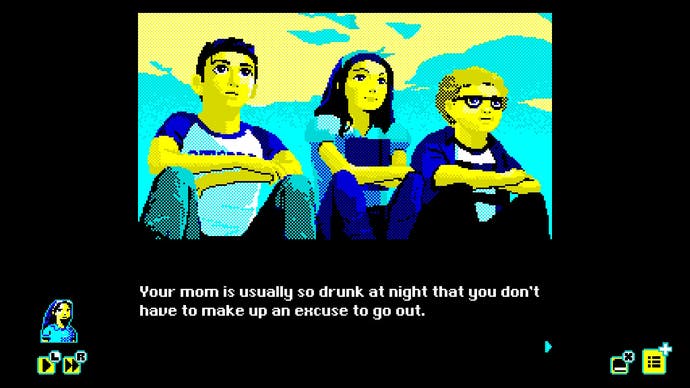 Working on all of these things are puzzles, but they don't always feel like it. Sometimes, they feel like it's just something to do in the summer. This slight shapelessness – and I'm sure it's not really shapelessness at all – but this sense of freedom at the heart of Lake Varney feels to me like its strongest point. It's downright fascinating. The game is giving me the summer off to do what I can, and then it's throwing in elements I can't change that will turn events in certain directions and then – again! – It's leaving me in the memories I've made in co-writing with the game. How does this affect me anyway. This allows me to have a hand in the creation of the memories I'll need to untangle with the characters.
I think to say more would be spoiling things. And, in truth, after the next re-read, I might feel quite differently about the events of the game and the structure of the game anyway. Just know this: If you're coming to Varney Lake from Mothman, you'll have a lot of the atmosphere you love, a lot of intrigue and pulp art, and even a new Solitaire version. But there's something else here, another presence, and one that I still enjoy engaging with for myself.

Please enable targeting cookies to view this content.

Manage cookie settings