A little over a year after its debut on PC, PlayStation 4 and Xbox One, Wolfeye Studios' cowboy-themed action-RPG Weird West is about to come to current-gen consoles.
On May 8th – so, this Monday – the Definitive Edition of the game will launch on PS5 and Xbox Series X/S (where it will also be available on Game Pass). Along with these consoles, the Definitive Edition of Wear Vest will also be available for PC.
While details are still scant on this upcoming version, it promises 4K resolution and 60fps.
Publisher Devolver Digital states that the project will come with all the expected "bells and whistles" when it arrives, in fact these various bells and whistles are actually due sometime next week. Keep your eyes open.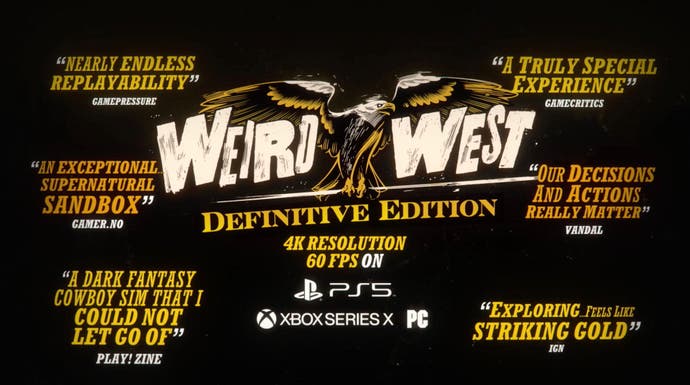 In Eurogamer's review of Weird West, Edwin called it a "bold, atmospheric yet unsatisfying ensemble RPG shooter, full of untapped promise".
"There's something poignant and invigorating about how pieces of this game come back to haunt you — given a good interval anyway. Other elements, however, feel like they're still finding their place in the puzzle." are losing their potency like dynamite in the rain."